You may see a cloud every time you gaze up into the sky. Generally, when water condenses in the atmosphere, clouds will form. A cloud is comprised of many tiny water droplets and other elements floating in the air. And as they get dense and saturated with these droplets, they spill forth rain onto the Earth's surface.
Clouds are most commonly formed in the troposphere, the layer of the atmosphere closest to the planet. However, they can appear in unlimited variants as they rise and fall. As a result, scientists have defined three major categories into which most clouds are classified to create some order. Keep reading to learn more!
High altitude clouds
Cirrostratus
Cirrostratus clouds are distinct due to their transparent and whitish appearance that can almost cover the entire sky. Another unique feature of cirrostratus is their halo, a light ring around the sun or moon. The halo is said to be formed due to the deflection of light to the ice crystals in the clouds.
Cirrus
As their name suggests, cirrus is a Latin word that means curl of hair; these clouds are thin, wispy strands and white stripes through the sky. Since they commonly develop at high altitudes, where low water vapor and temperatures occur, they are formed of tiny ice crystals rather than water droplets.
Cirrocumulus
Cirrocumulus clouds are usually located at a high altitude fixed in a row. These are distinct due to their small, patchy look formed by ice crystals. Compared to altocumulus and stratocumulus, each mound's size is much smaller. It will be fair weather with continual sunshine if there is a cirrocumulus cloud.
Middle altitude clouds
Altostratus
These are a type of middle cloud with gray and bluish sheets that can cover the sky partially or totally. But even if altostratus can cover the sky, you can still see the sun, but in dimmer visibility. Regardless, altostratus and cumulus clouds usually come together in cold conditions. And to make it clear, these clouds cannot cause the so-called halo phenomenon. Instead, they can develop light rains.
Altocumulus
Altocumulus clouds are the most common type in the middle atmosphere. These can be easily identified due to their white or gray patches diffusing the sky in rounded groups and rolls with spaces in between. Altocumulus are called "sheep backs" due to their cotton wool look and "mackerel skies," since their appearance looks like a mackerel fish's scales.
An interesting fact about these clouds is that they can signify a coming thunderstorm if they appear during summer's warm and damp mornings. Also, they can indicate that the temperature will turn colder after warmer temperatures.
Nimbostratus
Nimbostratus is famous for being the cloud that can cover the entire sky. This type of middle-altitude cloud usually appears with a combination of a low and middle thick layer in dark gray color. Nimbostratus clouds can even cover the Sun's brightness due to their comprehensive features. 
Also, a nimbostratus cloud is considered a "continuous rain cloud," since this is the cloud that usually appears every dark rainy day. Additionally, due to falling precipitation, the base of this cloud is dispersed and hard to find.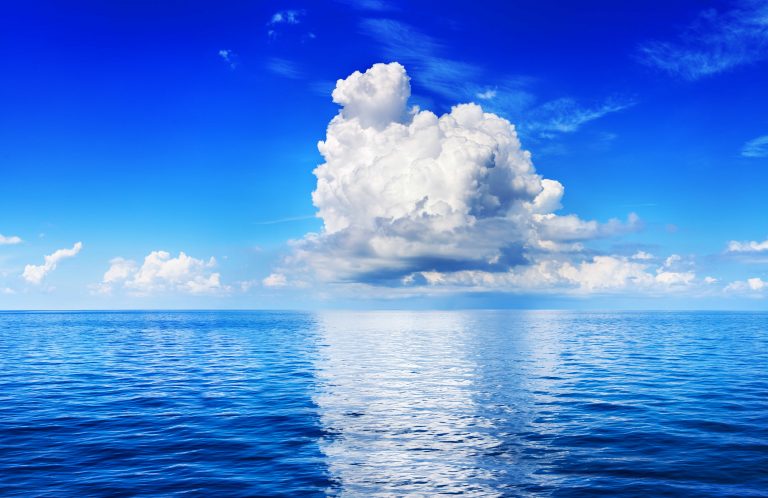 Low altitude clouds
Stratus
Stratus is a low-altitude cloud that commonly forms a mist or fog-like cloud in the sky. Aside from that, they usually come in light or dark gray and feature a flat appearance that can cover most parts of the sky. 
Another fact, when a stratus cloud is thick, it can develop some snow grains or drizzle. On the other hand, when it is thin, it can show the beautiful outline of the Sun. Although the stratus cloud has a dull appearance in the sky, once it breaks, it can reveal the hidden blueness of the sky.
Stratocumulus
This type of low cloud looks like a honeycomb when viewed underneath because of its dark mosaic of layered patchwork. So you can say that this cloud seems to look like a cumulus cloud stretched across the sky. But the difference is that it's puffy yet gray-colored with whitish cloud patches. And that is especially visible with a blue sky.
Generally, stratocumulus is typically considered a natural feature of bright yet cloudy days.
Cumulus
Cumulus is the most popular type of low cloud that can be seen in children's drawings, animation on weather maps, and such. This cloud usually looks fluffy and bulgy on top, but it has a flat base. Cumulus is commonly described as a cloud that looks like popcorn, cotton balls, or even cauliflower because of its puffy appearance. 
The base of this cloud can look dark, yet in sunlight, the cloud itself may appear bright white combined with its cauliflower-like bulges.
Look up!
Overall, clouds indeed do vary on the different levels of altitudes they are in. They are also named differently depending on their form. Some clouds are puffy and fluffy, similar to cotton, while others are gray and homogeneous. And there are even some transparent clouds. 
Regardless of their shape and type, clouds can give beauty to the sky. Aside from that, clouds can also serve as an indication, helping scientists assess and forecast the weather.