A report published by the Tokyo Business Research Company reveals the key to longevity for Japanese enterprises: integrity and staying private. Among the many centuries-old businesses, the oldest is Kongō Gumi, a temple construction company established during the Asuka period now boasting a history of 1,440 years.
Longevity secrets unveiled
The Japan Imperial Database surveyed 4,000 old businesses, asking them to encapsulate their "longevity secret" in a single Kanji character. The most common response was '信' (trust), followed by '誠' (sincerity). Additionally, many emphasized the importance of valuing talent. On the other hand, most long-lived Japanese companies are not publicly listed. Listing can have adverse effects on long-term survival, such as encouraging wasteful investments and rash expansion. Remaining private allows for more prudent financial management.
The world's oldest company
Established in A.D. 578, Kongō Gumi holds the record as the oldest existing company in the world. Born in an era when Japan was just opening up to Buddhist influence, this construction company has survived through 40 generations, specializing in building and maintaining Buddhist temples.
Artisans invited by Prince Shōtoku
In 578, during the reign of Emperor Bidatsu, a fervent Buddhist, three master craftsmen specializing in building shrines and temples — Kongō (Kongō Shigemitsu), Sawayamizu, and Nagimichi — were invited from Baekje, Korea. They constructed Japan's first official temple, Shitennō-ji. After its completion, Kongō Shigemitsu established Kongō Gumi, continuing temple maintenance in Japan.
For over a millennium, Kongō Gumi has seen its mission as the guardianship of Shitennō-ji, handling all its repairs. In the early 8th century, they completed the initially planned but unfinished cloister and lecture hall. Beyond Shitennō-ji, Kongō Gumi's imprint can be seen in many traditional sites in Japan. During the Tokugawa shogunate, they built Japan's three famous gardens: Kairaku-en, Kenroku-en, and Kōraku-en, now designated as "Important Cultural Properties of Japan."
Building without a single nail
Since ancient times, Kongō Gumi has upheld the "craftsman spirit." Craftsman Hirofumi Katō notes that not a single nail was used in the construction of Shitennō-ji's joints and beams. This ancient technique has been passed down through generations. "We support the roof with purely wooden materials interlocked in a cross-lattice pattern, simplifying repairs," they say.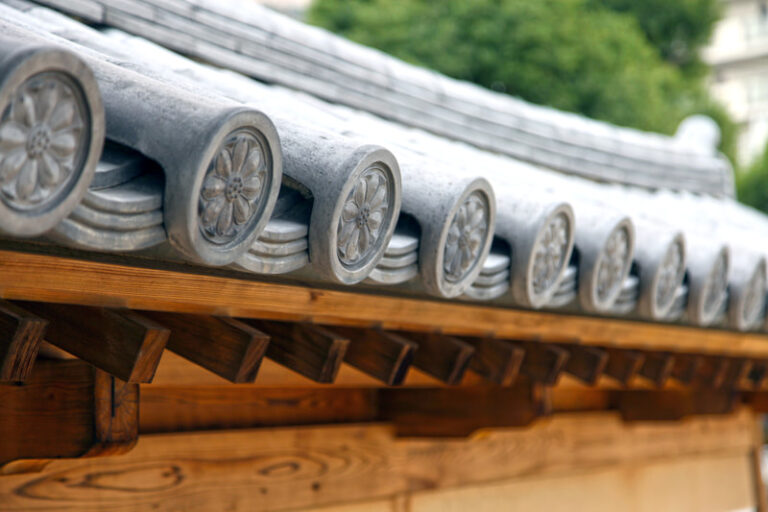 Even today, Kongō Gumi continues to use traditional construction techniques, with all beams, pillars, shingles, and molds handcrafted. Inscriptions like "Sturdy Tanaka" are often found inside these beautifully joined pillars and beams, visible only during repairs. This tradition, a message to future generations, signifies: "This era was created by me!"
The reason for Kongō Gumi's endurance
Kongō Gumi's longevity is partly due to its unique organizational structure. In Japan, craftsmen are typically freelancers, not belonging to any specific group. However, all craftsmen at Kongō Gumi are part of a dedicated team. As a family business, the overall leader, known as the 'ridgepole,' is hereditary within the Kongō family. Underneath are groups like Hatoyama-gumi, Kiuchi-gumi, Doi-gumi, Katō-gumi, and Kiguchi-gumi, totaling around 120 people. Leadership succession in Kongō Gumi doesn't automatically go to the eldest child, but is based on responsibility and wisdom. In the absence of offspring, sons-in-law are officially adopted into the family to ensure continuity.
Kongō Gumi practices "meritocracy," meaning they prioritize skill and performance over seniority or family connections when it comes to leadership roles and task assignments among their groups, fostering both close collaboration and competition. Task allocations are based on the groups' capabilities. Even group leaders are expected to engage in the most challenging tasks, embodying the true "craftsman spirit."
Staying focused on their core business has also been key to their success. In a Japan that values Buddhism, temple construction has always been essential, regardless of the era. Although each period had its lucrative industries, Kongō Gumi has remained true to its origins, resisting temptations. Kongō Masakazu, the 40th head of Kongō Gumi, states: "Our company has survived so long not due to any secret, but by sticking to our fundamental business."
Translated by Audrey Wang